What's Jasper's
Innovative American cuisine, handcrafted cocktails, and over 18 locally brewed beers make Jasper's Corner Tap & Kitchen the perfect place to watch your favorite teams on 12 flat-screen TVs. Open for breakfast, brunch, lunch, and dinner, Jasper's creates a lively scene for indulging in upscale gastropub fare in an elegant yet easy setting. For groups looking for private dining, Jasper's offers several options for small group or full buyouts for up to 225.
Order Online
early bird happy hour

Daily

3:00pm–6:00pm
late owl happy hour

Daily

10:00pm–Close
Drinks
$6
HAPPY WINES
Rotating Selection of Red and White Wine
HAPPY BEERS
Rotating Beer Selection
$7
HAPPY COCKTAILS
Classic Martini (Gin or Vodka)
Cosmopolitan
Jasper's Margarita
Old Fashioned
Moscow Mule
Rotating House Cocktail
Food
$7
ARANCINI*
Fresh mozzarella, basil, ground sausage, pecorino romano
SAUTÉED MUSSELS*
White wine cream sauce, lemongrass, serrano chili pesto, tarragon, garlic bread
GRILLED ANGUS BEEF SLIDERS (2)*
Lettuce, tomato, shaved red onion, cheddar, mayo, mini toasted brioche burger bun
JASPER'S FRIED CAULIFLOWER (VG)
Crispy cauliflower, sweet & spicy sauce, herbs, ranch dipping sauce
STUFFED BUTTON MUSHROOMS (VG)
Parmesan, mozzarella, bread crumbs, chimichurri sauce & herbs
3 BEAN CHILI CON CARNE*
Sour cream drizzle, ground beef, shredded cheddar, jalapeños, crostini
CHARRED SHISHITO PEPPERS (VG)
Parmesan, chipotle aioli, sweet & spicy dipping sauce
GRILLED ARTICHOKE (VG)
EVOO, garlic, lemon aioli, arugula, shredded parmesan
JASPER'S WINGS*
Buffalo or SF dry rub, celery, blue cheese dipping sauce
PRAWN COCKTAIL*
Avocado, celery, cucumbers, cilantro, lime wedge
*VG=VEGETARIAN (Ovo-lacto vegetarian)
Please inform your server of any allergies before ordering. *Consuming raw or undercooked meats, poultry, seafood, shellfish or egg may increase your risk of food borne illness. All charges are subject to a 6% San Francisco Health Care Security Ordinance fee. A recommended 18% service charge will be added to parties of 6 or more. Please notify your server to redeem coupon or voucher before you order. We are happy to split your check evenly up to 2 credit cards or create separate checks; please inform your server before you order if separate checks are needed
Upcoming Events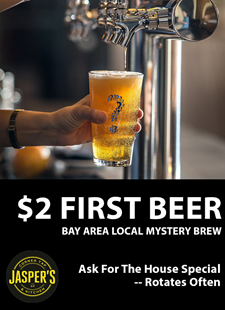 Mystery Beer Deal – all month
Floor Plans
Imagine hosting your upcoming social soiree or special event at Jasper's Corner Tap & Kitchen. With flexible floor plans for intimate parties and grand occasions alike, we can accommodate a variety of special events.
Room
Details
Seating Capacity
Name
Ceiling
Dimensions
Sq.Ft.
Conference
Theater
Classroom
Hollow Sq.
U-Shape
Banquet
Reception
Californian
8'
18' x 60.5'
1089
50
120
60
52
46
80
120
Californian A
8'
18' x 36'
648
24
72
30
32
28
48
80
Californian B
8'
18' x 24.5'
441
18
38
24
20
18
24
40
Serrano
8'
16' x 47.5'
760
26
60
40
35
30
48
60
Serrano A
8'
16' x 21.5'
344
20
34
15
15
14
20
30
Serrano B
8'
16' x 26'
416
20
21
25
18
15
20
30
Young Boardroom
8'
16' x 19'
304
10
12
Jarvis' Corner
8'
400
30
Jasper's
8'
2720
150
250
private dining & events
Get the group together at Jasper's Corner Tap & Kitchen, the perfect place to host corporate events, celebrate special occasions or enjoy private dining with family and friends.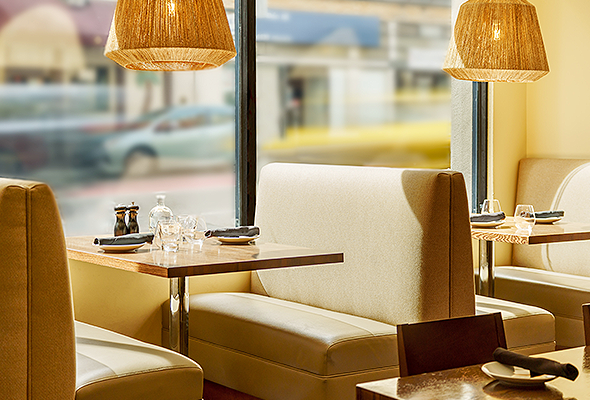 INDULGE IN PRIVATE DINING AT JASPER'S
Jasper's flexible space can accommodate any size group, from intimate family get-togethers of 12, to corporate events for up to 225 guests. From small receptions or happy hours in Jasper's Lounge to seated dinners in the dining room, the team at Jasper's will make every event a special and memorable occasion.
Start Planning